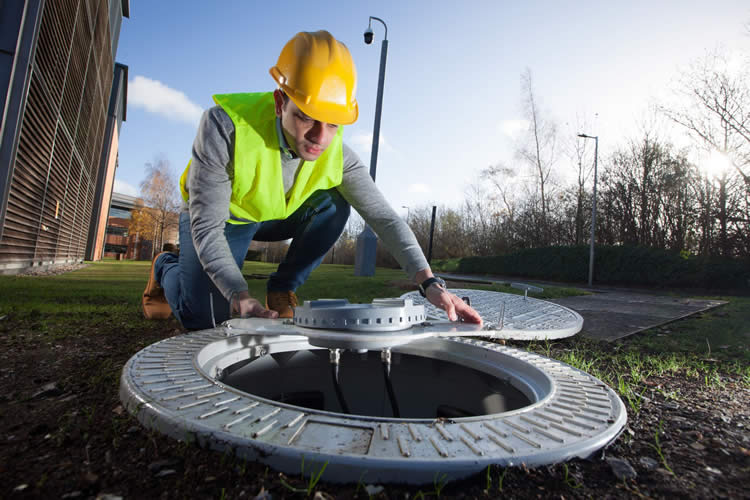 Vodafone is using "yesterday's infrastructure" to build tomorrow's smart cities. The operator is installing small antennae within manhole covers, as well as on lamp-posts and phone boxes.
The aim is to boost speed and extend coverage of today's 4G networks in high-traffic areas such as busy roads, town centres and shopping malls. Vodafone says the tech can then be easily upgraded to make way for 5G.
Another benefit, the company says, is that installing equipment on manhole covers causes minimal disruption for businesses and citizens – no construction work or street closures are required. Further, the landscape is not altered, making the antennae instalments ideal for busy public spaces.
In time for New Year
Vodafone has installed two types of connected manhole covers at its headquarters in Newbury. One is purpose-built and the other uses existing manhole covers. The antennae-equipped manhole covers can carry calls and internet access over 200 metres using only a small amount of power.
Further, Vodafone plans to roll 4G out beneath its own manhole covers, which it inherited through the acquisition of Cable & Wireless Worldwide in 2012 as well as those of utility providers across the UK.
Vodafone is also fitting 4G antennae to traditional phone boxes along Edinburgh's Princes Street – it says these will be in place ahead of the New Year's Even Hogmanay celebrations.
The company says phone boxes are ideal homes for antennae in places where mobile masts would be hard to install due to the need for a power supply and fibre optic cable connections.
Looking ahead to 5G
The antennae are connected using Vodafone's high-speed fibre converged network.
A statement on the initiative from Vodafone said: "These fibre-connected 5G-enabled small antennae are the foundation on which connected smart cities will be built."
There are high hopes for 5G to advance smart cities – for example, enabling connected traffic lights which automatically re-route traffic away from congested areas and allowing city councils to monitor their infrastructure intelligently and deploy predictive or on-demand maintenance.
Vodafone UK Chief Executive Nick Jeffery said: "We are committed to providing customers with the best network possible by drawing on our strengths in innovation and strong UK heritage. It is great to be able to use yesterday's infrastructure – from phone boxes to manhole covers – to deliver the services of tomorrow.  This is one of the ways we are extending our 4G services to areas other networks cannot reach, and getting ready for 5G."

Source: Sarah Wray-5g.co.uk