A satellite communication technology company named by CNBC as one of the 50 most "Disruptive Technology Companies in the World" is collaborating with yacht communications systems integrator, e3. The companies are working together to commercialise a new form of metamaterials-based satellite for the superyacht industry. 
Kymeta, the spinoff from Intellectual Ventures, has developed the new technology to produce low-profile, flat panel antenna, which, as applied to the yacht industry would enable global access to high speed internet and HDTV services with minimal impact on yacht design.
Washington-based Kymeta, though yet to see its technology in commercial markets, is an exciting company appearing across several peoples' radars and media. As well as its recognition on CNBC, Bill Gates recently chipped in for $50 million worth of second round venture cap funding, alongside other prominent investors, Liberty Global and Lux Capital.
"The technology is fascinating…it's effectively like a glass solar panel that tracks the movement of satellites, from virtual transistors within it that are tracking beams – it's quite extraordinary. It tracks satellites just like the stabalised antennas we have currently but it's considerably faster, using a lot less power and no moving parts, so more maintenance free," said managing director of e3, Roger Horner, speaking to SuperyachtNews.com ahead of Monaco, where he will be exhibiting the technology's potential, if not actual demonstrations at this stage.
The receive and transmit VSAT antennas should be in production by 2015, said Horner, because delays in securing licensing mean that although the technology is ready, the first service will be receiver only for TV satellite. Unusual for the yacht sector, which usually takes on technologies tried in military or commercial environments first, Kymeta's flat panel technology is still being developed across a range of markets. The involvement between e3 and Kymeta came about because of this, explained Horner.
"Inmarsat [who we work with as value added reseller] had already formed an agreement with Kymeta to develop this antenna for private aviation. So we looked at that, and said, "wow, what about yachting?"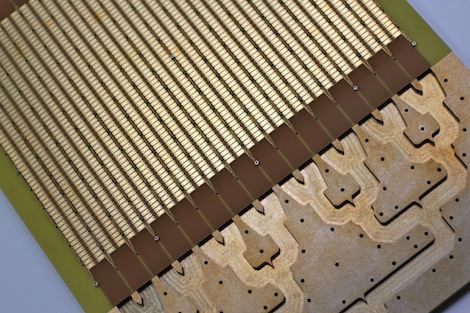 Metamaterial antenna (Source: Kymeta)

The Kymeta flat panel technology will work on the new High Throughput Satellite (HTS) systems that are currently being deployed, and will provide high-speed Internet connectivity as well as HDTV reception to yachts while cruising or in port, enabling video streaming, video calling and other key activities. This high-speed connectivity is also said to open up a new range of possibilities for telematics and cloud based services for the yachts.
"Yachting is a very interesting market and a natural extension of the mobile technologies already in development at Kymeta," said Vern Fotheringham, chairman and CEO of Kymeta. "Collaboration with e3 Systems is key in our efforts to develop a solution that surpasses expectations in the yachting industry today."
Source: Belinda Liversedge