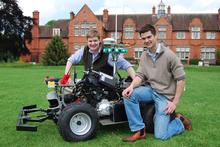 James Thomas and Kit Franklin with Dionysus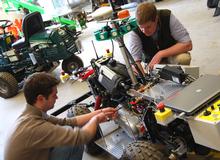 Kit and James in the engineering workshop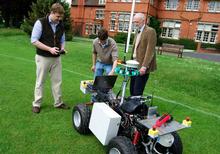 The students test the vehicle with Head of Engineering, Professor Simon Blackmore
Farmers around the world will be able to improve their irrigation efficiency thanks to an autonomous vineyard robot developed at Harper Adams University.
'Dionysus' has been created to use thermal imaging sensors to detect moisture levels in grape vines. This data will then be used to inform farmers as to whether irrigation is required.
Three MEng Agricultural Engineering students at the university in Shropshire have designed and built the project – James Thomas, Kit Franklin and Chris White.
23-year-old James from Devizes in Wiltshire, said: "We had to select an appropriate vehicle to work in vineyards, in this case, a child's quad bike. We then designed our own control systems to control steering, throttle and braking.
"We have also designed a series of safety features as when Dionysus is in autonomous mode, it is important that the engine cuts out, should a safety issue arise."
Kit, 23, from South Cerney in Cirencester, added: "These systems are linked to a laptop running SAFAR agricultural robotic software, which takes readings from GPS and also a SICK laser scanner on the front of Dionysus.
"This then guides the vehicle on a pre-set path around the vineyard."
The team has been working on the project for the past few months, building on skills and knowledge developed during the five years spent studying at Harper Adams.
Tasks were assigned to each team member to share the workload and to get to grips with the complex systems involved.
Kit added: "This project has enabled us to develop our skills in areas such as mechanical engineering, electrical systems engineering and applications engineering.
"As we've had to source suitable components from outside suppliers, there has been a lot of contact with professional engineers and industry experts.
"Developing Dionysus has proven to be very good training for our future careers."
Dionysus is the first of many robotic/autonomous systems which are to be developed by the Harper Adams Engineering Department as part of the National Centre for Precision Farming (NCPF).
The NCPF promotes and evaluates the use of technology as a vital aspect of precision agriculture, building on Harper Adams University's reputation as an innovator within engineering.
Source: Harper Adams