The new service will see eight 18-metre long Van Hool buses operate on a 6km dedicated line in the centre of Pau.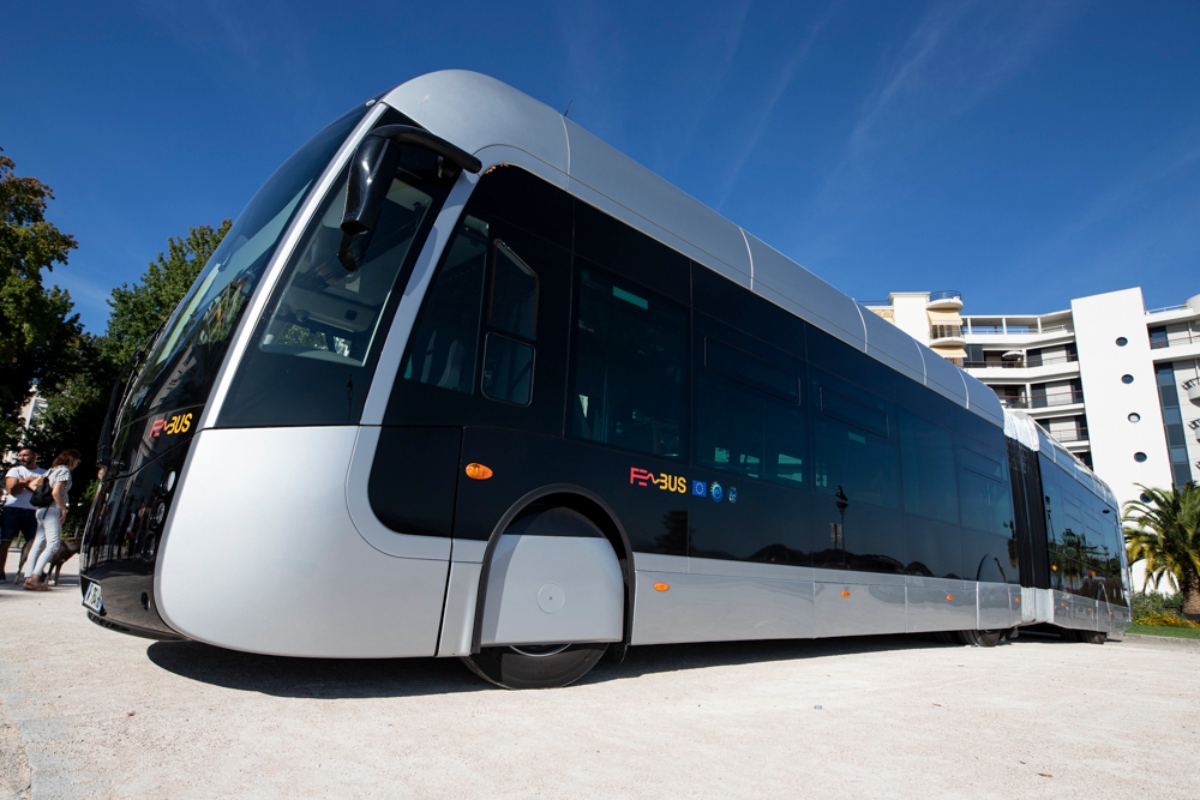 The hydrogen bus will operate in the French city of Pau. Picture copyright: Cyril Garrabos
The world's first hydrogen-powered bus rapid transit (BRT) system has been deployed in the city of Pau in the south of France.
Dubbed Fébus, the new service will see eight 18-metre long Van Hool buses operate on a 6km dedicated line in the centre of Pau.
Project launch
French public transport operator, Keolis, has worked in partnership with local transport operator Société de Transport de l'Agglomération Paloise on the project launch and is providing technical assistance for the operation of the eight hydrogen BRTs.
This new service is part of a major upgrade to the city public transport system.
With 85 per cent of the 6km route running in dedicated lanes protected from other traffic, and a priority system operating at intersections, journey time is limited to 17 minutes.
Built by the Belgian manufacturer Van Hool, the buses produce their electricity on board, using a hydrogen fuel cell.
"The use of this technology results in zero emission of greenhouse gases or air polluting substances."
The bus' power source is an electric hybrid. Hydrogen (H2) and oxygen (O2) are converted to electricity in the fuel cell using electrolysis in "real-time". Further, the lithium batteries and electric motors provide additional power wherever and whenever it is needed.
The energy that is released when the vehicle's brakes are applied is also re-used. The use of this technology means there are no emissions of greenhouse gases or air polluting substances, claims Van Hool – the vehicle's only emission is water vapour.
The buses are designed to be accessible for people with reduced mobility, can accommodate 145 riders and feature large bay windows that provide passengers with plenty of light.
The line's 14 stations are equipped with real-time passenger information, free wi-fi, automatic ticket vending machines and video protection cameras.
The buses operate on the route between François Mitterand Hospital, in the north of the intercommunal area, and Pau train station, in the south. They serve the city's main points of activity: educational (the university); and administrative as well as commercial and leisure hubs (supermarket, cinema, restaurants, city centre and its shops).
In France, in addition to the hydrogen BRT service in Pau, Keolis launched the fully electric BRT lines in Amiens (May 2019) and Bayonne-Biarritz-Anglet (September 2019) as well as the Caen steel-wheeled tram (July 2019).
In the Netherlands, in September 2019, Keolis won the largest electric bus contract in its history, with 300 vehicles operating in the provinces of Overijssel, Flevoland and Gelderland from December 2020 onwards.
Source: Smart Cities News Sue Weekes